Yuko Uchida(Pianist / Composer / Arranger)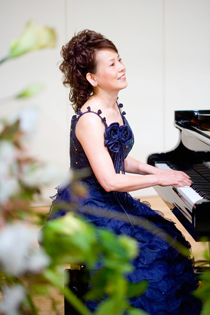 Yuko Uchida was born in Tokyo, Japan.
She studied classical piano at Kunitachi Music College in Tokyo, with Prof.Keiko Kubota and Yaeko
Senba. Then she enhanced her skill with Prof.Drechsel and Prof.Lehman in Dusseldorf, Germany.
She studied jazz piano at Manhattanville College and Westchester Music Conservatory in New York, and joined jazz summer camp at Stanford University in USA.
She covers a variety of music, such as classic, pops and jazz. Also she performs lots of live and streaming concerts.
She plays with the Japanese traditional instruments, Shamisen, Shakuhachi, and Koto, and released CDs of "Soundscape Japan" and "Spirit".
She collaborates with strings.
She played Dvorak together with "Stamitz Quartet" of Czech and now forms female group called "Mellow Quartet " and "Stellata Trio".
The CD of "REUNION" creates beautiful collaboration with strings, inspired by her originality.
As a solo pianist she performs concerts. Her healing sounds is recorded in the CD of "Purple Requiem".
She composes and arranges, as a member of "Gakufushigotonin PAG LLC" which provides music productions with scores.
And her scores are sold by "Print Gakufu" "@ELISE" and "Piascore" on the internet and by publishments.
She teaches classic and jazz piano at Yamaha Music School, Shibuya. And she is capable of English and German teaching.